Honeymoon Guide
A Wedding and a Honeymoon for You and Your Guests to Enjoy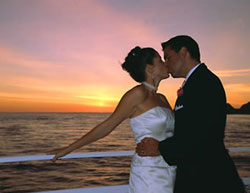 If a couple who is getting married decides to have a different kind of wedding, not at a traditional church or an outside wedding, they can opt to have their ceremony on a cruise ship. It's an out of the box idea and really blows guests away. Some people choose to have sunset weddings on a boat, but an actual cruise ship is even more awesome.

Cruise ship ceremonies take place in the morning before the ship sets sail. After the ceremony, those guests who want, can share in the couple's honeymoon and go on a four day excursion. Those who choose not to go on the cruise can certainly attend the ceremony and still be part of the special day.

For some this is a great way get married and do their honeymoon at the same time. It saves a ton of money and lets you stay super close with friends and family. While some may argue that spending your honeymoon with family nearby, especially the in-laws might be damaging to your quiet time. The positives are getting to party with friends for 4 whole days! Just letting loose and not-having a care in the world.

Getting married on a cruise ship would definitely take away a lot of stress when planning the wedding. The ship has set packages and lots of rules to follow. The bride has to choose the cruise line's flowers, cake, and destination, so half the battle of decision making is over. There is no reception, so there's the other half of the battle. All the couple really needs to do is decide on who is invited and what to pack. Everything else is easily taken care of by the cruise ship's wedding coordinator.

So in today's economy the couple should be slightly worried on the affordability of their guest's travel expenses. Well, when booking a lot of rooms at once for friends and family great deal s on rooms are offered. The average rate per person for a four day cruise is around $250, excluding taxes and port fees. That's all inclusive that means the following is included; food, entertainment, lodging, and some ships gift a $50 credit just for being a special guest. That's quite a deal for friends and family who want to go and be part of their loved ones special time. It's really a vacation for everyone and the bride and groom should get the credit for sharing their honeymoon love time with everyone.

For those guests who can't attend because of vacation time or finances it is perfectly okay because they still get to be at the wedding ceremony. If the guest just goes to the ceremony then they have to get there early with id in hand and are restricted to only one part of the ship. There are strict rules for guests who are just attending the ceremony, they don't want people sneaking onto the ship and staying there after the wedding, for a free cruise. For those guests who continue the journey with the newlyweds get a sweet Bon Voyage.

Cruise ship weddings are really a win-win type of wedding and another great alternative to the traditional weddings.