Honeymoon Guide
Uncommon Honeymoon Vacations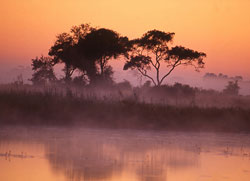 After a recent internet search for 'exotic honeymoons', the most common search result depicted the proverbial palm tree on a white-sand beach adjoining a calm, crystal clear ocean-scene. When I think about it, the results of my search probably also match the image that most soon-to-be honeymooners envision when they dream of the exotic location where they want to spend their honeymoon. Many of us don't think past the option of spending our honeymoons at a luxury all-inclusive resort, overlooking the calm ocean. And really, there's nothing wrong with that. In my research of exotic honeymoon locations, I sought to discover some less-common and equally exotic honeymoon locations, better-fitted for adventure seekers.

My search first began with a simple dictionary search for a definition of the term "exotic". According to Webster, exotic is, "strikingly, excitingly, or mysteriously different or unusual." With such a general definition, I decided that exotic locations should include the most unique places on earth. And really, the beach scene that I imagined isn't very unique compared to some other alternatives, including Rain Forests, Egyptian temples, Grand Canyon, Mount Everest, etc. Next I thought about how beach resort honeymoons were so popular because of the aura of romance and serenity that the ocean injects into those who are near it. My goal then, became to find the perfect balance between the truly exotic and truly romantic honeymoon destinations.

The Botswana Safari
What better to begin the journey of marriage than to journey in luxury through the African safari in search of lions, cheetahs, zebra, giraffe and more. Your days, filled with the exhilaration of coming close with many species found only on the safari. At night, glide romantically down the smooth delta under clear skies, enjoying the seemly countless number of stars overhead. Experience the serenity offered by one of the most unique places on Earth. Then, spend a couple days aside the majestic Victoria Falls, one of the seven natural wonders of the world. Somewhere along the way, the two of you will realize that safari isn't everything you thought it was, it's so much more.

Romance in Peru
Take your first journey together as a married couple through the romantic preserves that make Peru a destination for romance. In the daytime, discover the ancient ruins of Quenqo, Tambomachay and Machu Picchu, another one of the seven natural wonders. In the evening, dine and enjoy some the most luxurious accommodations. You'll experience a taste of the old with a splash of the new in this, one of the most romantic honeymoon locations.

If you have a taste for a honeymoon that's a step beyond the norm, there are plenty of options for the perfect exotic honeymoon vacation. Finding the right combination of romance and adventure will ignite the fire of your new marriage, while giving you years of unforgettable memories of the beginning of your new journey in life.