Honeymoon Guide
Recent Trends Suggest Exotic Honeymoons Continue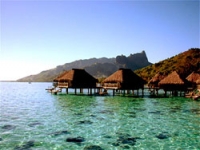 Even in the midst of "economic turmoil", newlyweds and wedding-vow renewers alike are navigating opulent waters for exotic destinations, and for lengthier stints.

How are they getting away with it? Well, the newlyweds are hosting wedding at the site of their honeymoons. And the renewers, well, we can only imagine that their extravagance is the product of a supple savings.

What do current trends reports say about how we're vacationing?

Vacationers are going green.
We're going the way of eco-tourism and opting for hotels that employ greener methods of operating-solar powered lighting, captured rainwater and battery-operated transportation are just a few.

We're becoming more adventurous.
We're swimming with dolphins, exploring cenotes, bungee jumping, spending our nights in tropical bungalows engrossed by jungle underbrush. What it is we're doing here, is we're taking exotic honeymoons.

We still want fancy.
Especially popular about the newlyweds. And what's the single most requested amenity when searching for a hotel? A personal butler.

According to Modern Bride Magazine:

Average cost of a honeymoon: $3,700
Average length: 8 days
Honeymoon cruises: 10%
Vacation destination weddings: 10%
Honeymoons at resorts: 40%
Honeymoons at large hotels: 27%
Honeymoons at small hotels: 10%

How are we all still affording these lavish post-wedding holidays? That's a question we can't answer.