Honeymoon Guide
Planning Weddings and Honeymoons Abroad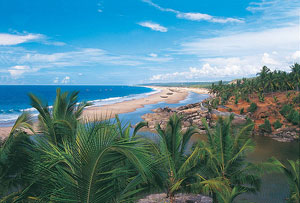 As if planning a wedding and honeymoon wasn't hard enough if you had it right in your own back yard, planning a wedding overseas can be a nightmare. Despite the added difficulties (and cost!) of tying-the-knot and honeymooning in a foreign land, many couples forge ahead with dreams of exotic weddings and honeymoons. The idea of spending the most important day of your life in paradise is too much to pass up, even if it is a hassle to plan for. Here are some tips that can make planning weddings and honeymoons abroad less painful.

Planning Weddings Abroad
Start the planning process by taking a survey. That's right, take a survey of all your friends and family who must attend and determine whether your dream wedding abroad will even be an option. You should do this first just in case you have a few key guests who just won't be able to make it. Once you've confirmed that your guests are willing and able to travel (don't forget about passports!), you can start figuring out the logistics.

Make it easy on your guests by researching flights, hotels and transportation options. The more research you do, the easier and more-likely it will be that your quests make it your wedding. Also, make sure to present the travel options to your guests as early as possible so they have time to plan and to take advantage of cheaper rates.

Enlist a couple close friends to help coordinate things on the days leading up to the wedding. There's no easier way to ruin your big day then to try to coordinate travel arrangements for guests who had unexpected difficulties. Asking a close friend or family to help out will take a lot of the stress of you so you can focus on what's important.

Planning Your Honeymoon Abroad
Planning honeymoons abroad is much more common and much less of a headache than planning a wedding abroad. Keep these things in mind:
* Determine security risks and visitor requirements whenever leaving your home country.
* Learn a little about the customs of any country that you're visiting. Just a little research can go a long way in fitting in on your trip.
* An experienced travel agent or tour company can help to make sure that you have no travel hiccups on your trip, making it all pleasure and no pain.

Whatever the destination, weddings and honeymoons abroad are a great way to celebrate the most important day of your life. As with anything, careful planning can ensure a smooth trip, allowing you to focus on enjoying your special day.