Honeymoon Guide
The Ins and Outs of a Honeymoon Registry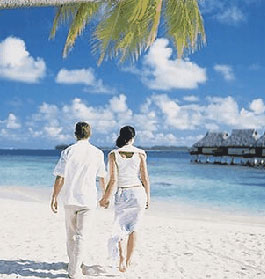 Honeymoon planning is an important part of the wedding planning process. There are many things to consider: Where to travel, how long to travel for and how to pay for the trip just to name a few. However, planning and paying for a honeymoon can be made much easier when dealing with a service know as a honeymoon registry.

Honeymoon registries typically work in the same way that that gift registries do. First, the bride and groom select a honeymoon registry to sign up for. In this step it's important to read the fine print before signing up for any honeymoon registry. Aside from ensuring that the travel service you use provides the types of honeymoons you'd like, you'll also want to ask questions like:
* Are there any added fees for using the registry?
* What happens if I cancel my trip?
* What services do you provide for helping me to notify my friends and family of the registry?

Once you're comfortable with your registry, it's time to let your friends and families know about it. At this point, your honeymoon registry should provide tools to make it easy for you to notify your friends and family members. Some services let you setup a profile page and send email notifications.

Once you've sent notifications, you should be able to track any donations that have been made. This is important so that you can determine the budget for your trip which will allow you to choose your honeymoon vacation.

Advantages of Honeymoon Registries
For their honeymoons, many couples stretch their budget and splurge on great vacations. The honeymoon registry certainly helps couples to get assistance from their friends and families in paying for their trip. Couples are always pleased to see how the contributions of their friends and families have made it possible to really enjoy their dream honeymoon vacation. Additionally, the honeymoon gift registry is especially popular among more-established couples who aren't in need of the typical wedding gifts which can include house ware and home goods.

No matter what your honeymoon travel plans, consider a honeymoon registry as a way to help you make the most of your honeymoon experience.