Honeymoon Guide
The (Honeymoon) Road Less Traveled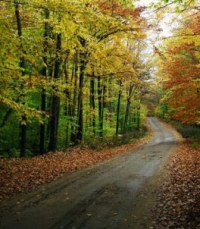 A nascent concept dawned upon me recently, as I perused the internet for honeymoon ideas. Why don't I give back to the community, I mused, the humanist in me suddenly pouring forth. Instead of indulging for an additional two weeks, why don't Sam and I make an actual contribution? And then came the epiphany: my husband and I would volunteer abroad for our honeymoon. The notion had seemingly evaded both my friends and family, most of whom had enjoyed traditional, decadent honeymoons in Europe, Tokyo, or Hawaii. Sam and I, however, rarely adhere to convention.

As honeymooners, we definitely took the road less traveled-a road we would come to venture indefinitely. What surprised us initially, however, was the abundance of these short-term "alternative honeymoons." We had believed sustainable volunteer trips to be rare, and most likely expensive, since relief projects and conservation trips often rely on volunteers' contributions. We had $4,000 dollars, two thousand of which we would apply towards airfare. As such, we had assumed our options limited.

Fortunately for us, web-sleuthing would reveal superfluous opportunity in the realm of volunteer trips-and affordable ones at that. A multitude of volunteer travel organizations surfaced, each of which offered courses, expeditions, and short-term volunteer trips under $3,000. Much to our delight, we discovered a plethora of community projects in Asia; conservation programs in Europe and Central America; and even language instruction opportunities throughout Africa and Asia. Each was short term and encouraged worldwide sustainability-our two basic provisions.

Selecting between varying conservation, development, and educational projects was in fact arduous, due to our suddenly ample budget. For two weeks we toiled over one incredible trip after another. Should we contribute to safari conservation or foster in Brazil? Should we provide aid to underdeveloped institutions in India or foster wildlife in the Mediterranean? My educational proclivities (Master's degree in education) and Sam's fascination with Southeast Asia (don't ask) eventually drew us to Thailand, where we could spend three weeks instructing English amid Thailand's beautiful, rural landscape.

And so, my husband and I embarked on our alternative honeymoon, a honeymoon that would lead to our immersion into the splendor of Thai culture. In fact, upon our trip's completion, Sam and I continued our travels; for an addition four weeks, we ventured to Bangkok, Laos, Cambodia, and even Vietnam. Not to say we didn't dip into our savings a bit; we most certainly did. Needless to say, those three weeks (or seven, rather) were among the most enlightening and gratifying in our lives thus far. We're already planning our second alternative honeymoon-and this time, throughout Africa.