Honeymoon Guide
From Bora Bora to Prague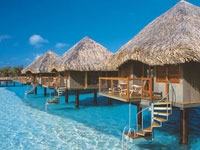 Getting to these iconic destinations can be financially unforgiving. I, too, was once under the impression that most, if not all, foreign destinations were somewhat obtainable; however, that is simply not the case.

When I was charged with the task of helping my best friend plan her honeymoon, I had gone home and spent the rest of my evening racketing through my travel experiences, attempting to conjure a location that I felt suited her and her budget. She, on the other hand, had approached the task from a different angle. The next morning, we reconvened at a corner café in San Francisco's financial district, and the words "Bora Bora" shattered out of her mouth like two gunshots to my chest. I was absolutely crushed. Not because Bora Bora is indescribably beautiful and quite possibly the definition of an exotic and secluded island, but because a one-way ticket would end up casting her about two thousand; and that's if she didn't take her husband along!

She never made it to Bora Bora for her honeymoon vacation. Instead, our compromised landed her in Prague. One would not be too terribly shocked to learn that she fell for the city and was fortunate enough to make it to Brussels, Vienna and Budapest all over a week's vacation.

In fact, traversing Europe is much more realistic, both financially and in terms of the time it takes to visit the locations you'll want to visit. By utilizing the region's mass transportation system, she and her husband were able to accomplish more for much less by opting out of that Bora Bora trip and skipping across the pond.