Honeymoon Guide
Bachelorette Party Trends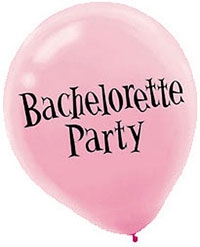 An interesting trend this year that affects the process, and length, of a marriage ceremony-Honeymoon vacations are no longer limited to post-wedding celebration. The bachelor, or in this case bachelorette, party is fair sport for adventures beyond a bar or club, or strip club. Bachelorette parties are now leaving shore and visiting such subtropical locales as Cancun, Cabo, and Puerto Rico.

Brides in their late 20s to early 30s are gathering their girlfriends and departing on pre-wedding vacation celebrations. One such woman in her mid-30s, Lisa Rus, supports the idea, matter-of-factly stating, "I am too old to go to a string of bars and wear a veil and run around." Which is why Ms. Rus opted for a group bachelorette cruise.

Paid for, typically, by the the bride's maids, these post honeymoon vacations are split, with each woman paying her own share and a small portion of the bride's; this amount averages out to somewhere around 624 U.S. dollars.

What is also peculiar about this trend is the emergence of bachelorette parties pervading what are typically hotspots for bachelor parties, including Las Vegas and Atlantic city. Where ten years ago, there was only one bachelorette party for every ten bachelor parties, the sin city is reporting the ratio to be about even.

Also on the rise are bachelorette spa parties. Mrs. Russer, a Colorado native, treated her girlfriends to a day of manicures, pedicures, a lingerie party, and a weekend road-trip to, of all locations, Las Vegas to gamble and lounge pool-side with blood marries in tote.

If the branching out of pre honeymoon vacations is a sign of anything in particular, it is that the guys have some catching up to do.