Honeymoon Guide
Alternatives to Beachfront Honeymoons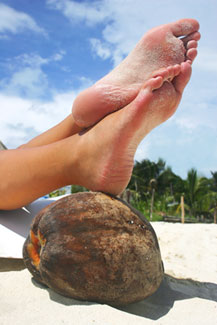 Warm sea breezes, the mind-calming sound of the gentle wave breaks and the love of your life by your side- It's what most imagine their honeymoon will comprise of. When most imagine their honeymoon, they can't help but to visualize the typical beachfront honeymoon experience. And really, is there a better way to spend a honeymoon? Maybe, and maybe not. But there are alternatives to beachfront honeymoons that you may want to consider. After all, this is one of the biggest events of your life so it should command some more consideration.

First, consider this thought: Marriage is an adventure. I haven't yet met a married person who would call it anything but. So, what better way is there to begin the adventure of marriage than with a honeymoon adventure? Now, I'm not talking about packing a backpack and living like a hobo while traveling across country or across a continent, although this could be an option. What I am talking about is expanding your horizons, together, and taking part in an experience with memories that you can share forever.

Consider a honeymoon experience where the two of you are taken on a tour through a far away country, any far away country, and allowed to experience the best of what it has to offer. During the days you tour ancient ruins, temples and experience foreign cultures. You learn and think about things from a perspective that you haven't before. In the evenings, the romance picks up as you enjoy luxurious, personal accommodations and dining. After all, isn't this what your honeymoon is supposed to be about. Somewhere along your journey, you still get to spend in a few days with your toes buried in the sand. In this dream though, you've never heard the name of the beach that the two of you stroll romantically down. But the scenery is the same with a warm breeze, gentle waves and the person that you've chosen to spend your life with. The two of you feel at home, yet you realize that you're so from it, and that some how seems okay.

Now don't get me wrong, the idea of spending a couple restful weeks on an island paradise with no responsibilities but to enjoy your surroundings and spend time with the one you love is appealing. But it may not be a bad idea to consider something with a little more spice, a little more variety and a little more adventure.